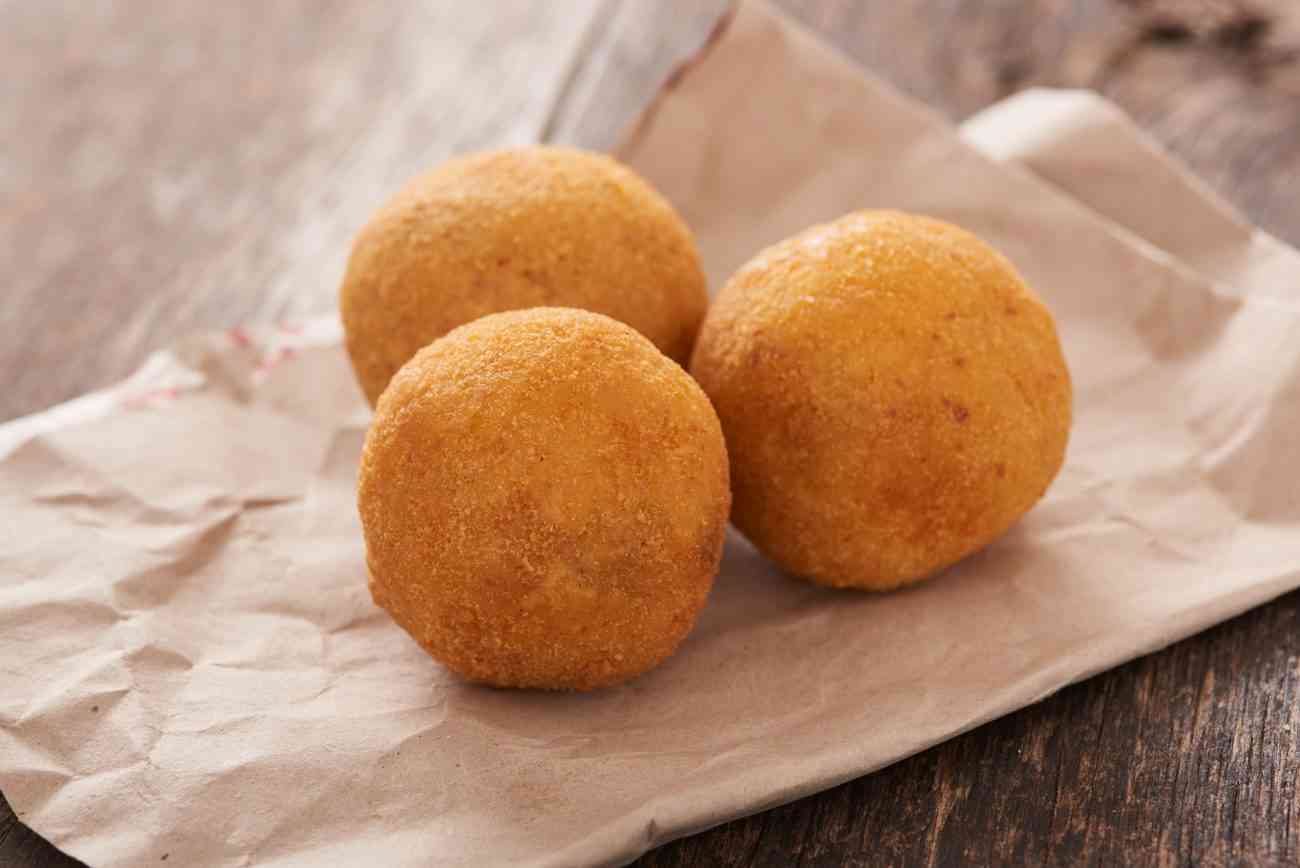 Arancina al burro
Ingredients
4 teaspoons

Unsalted butter

1/4 teaspoon

Crushed Saffron

2 Tablespoons

Grated Parmigiano-Reggiano

150gr

Fresh Mozzarella cheese
Directions
A stuffed rice ball, deep fried, made with love: that's how I would describe an Arancina. And yes, I said "arancinA" not "arancinO", since this is the recipe for the Arancina (female!) as it is done in Palermo, and not the Arancino (Male!) more common in the area near Catania.
This, of course, is only a single type of Arancina, but take in consideration that all around Sicily, there are different type of stuffing (with bolognese sauce, mushrooms, chicken, gorgonzola cheese or even Nutella!)
Products from Amazon.com
‹
›
(Visited 168 times, 3 visits today)
Put in a large saucepan over medium heat the rice alongside with saffron and one and a half cups of salted water. When the water and rice are boiling, cover the saucepan and reduce the heat to low. Let it simmer until all the water is gone (usually between 15 and 20 minutes!).
Put in the pan some Parmesan cheese, salt, pepper and butter and mix everything, then spread all the rice out on baking tray and let it rest a bit, it needs to be at room temperature when you'll make the rice balls.
Cook the béchamel sauce (if you don't find some premade béchamel, you can make it yourself with some milk and butter!) and let it rest – it needs to be cold when we'll use it for the filling.
Cut the ham into cubes and the cut cheese of the same size, put them in a bowl. Add a couple of tablespoons of béchamel and mix everything. Keep in mind that béchamel serves only to keep the ham and cheese together, it needs to be very thick and as well do not put too much of it.
Add some salt and pepper and start to mix.
Once all the ingredients are ready, it's time to start shaping your Arancine. In order to do that you can or use the old method (Place 1 tablespoon of rice in your hand and then use your fingers to give it the shape of a hollow bowl, put a teaspoon of filling on top, then gently close the rice around the filling giving it a ball shape) or you can use the Arancinotto, this amazing tool that will help you giving the PERFECT shape. To be honest, doing it the old way is not easy at all, and sometimes you end up with Arancine that are a bit empty on the inside, with no enough filling (as is not easy to close them!)
When all the Arancine are in shape, mix together eggs, flour, half cup of water and a pinch of salt in a bowl, until the mixture is smooth.
Spread the bread crumbs in another plate.
Now it's time to roll each Arancina in the mixture you've made, and then roll it again on the bread crumbs, until fully breaded!
Once done, let them rest in the fridge for about 20-30 min.
Start warming up the oil in a sauce pan big enough to contain at least 2 or 3 Arancine at the same time. Start cooking them until they are evenly golden-brown (if the oil is hot enough, usually about 3 minutes). Do not put more than 2 or 3 Arancine at the same time, better if you are careful, you don't want them overcooked!
Serve them hot, your Arancine are now ready to go!
Recipe Reviews
There are no reviews for this recipe yet, use a form below to write your review